The layout and styling of charts in LogView Studio can be stored in templates. These templates can be used later for easy formatting similar charts with the same style.
In the menu 'Chart' -> 'Settings' there is the section 'Templates' with the functions 'Load', 'Save' and 'Delete'. These functions are linked to the actual active chart.
Save Template
To save a template first select the chart of your choice. Then select the 'Save' button in the 'Templates' section.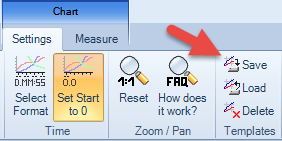 A new dialog will open to enter the (file-)name of the template. After confirming with 'OK' the template will be saved.
Note
The templates will be saved in the LogView Studio User folder. Under Windows 7 this is for example
C:\Users\<USERNAME>\AppData\Local\LogView Studio\ChartTemplate
Note
During Deinstallation of LogView Studio the templates will not be removed. The User folder will remain on the computer and must be deleted manually. See also 'Remove User Data'.
Load Template
Again first select a chart of your choice. Then select 'Load' in the 'Templates' section of the 'Chart' -> 'Settings' menu: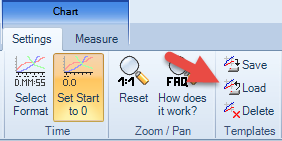 The following dialog window will open:

In the top area an existing (saved) template can be selected. In the bottom area various settings of the saved template which shall be applied to the active chart can be pre-selected.
The Default selection is in most cases fully sufficient.
Templates in different charts
In general it is recommended to load templates only for similar charts - e.g. for charging curves of a specific battery charger. In case the number of curves are different due to (for example) a different type of charger the template will work anyway. But some curves will then remain in the actual / previous format or some information from the template will be simply ignored. This depends whether the active chart or the template has more curves (or curve information).
Additional Information