Since MS Windows XP SP2 (and higher) any ZIP files are classified as potential dangerous after downloading from the internet. You can recognize that by checking the ZIP-file Properties.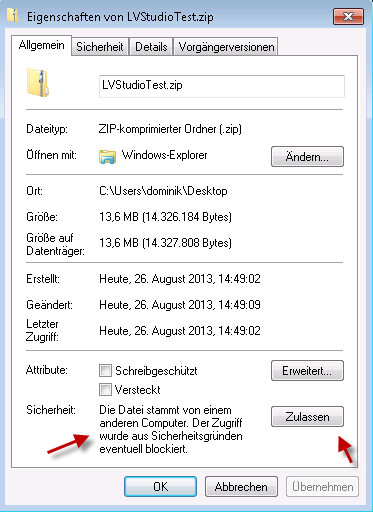 TBD Englisch
Additionally you will see a security warning after starting the program.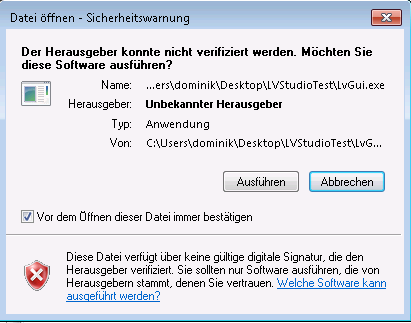 You can unzip the primary file without problems but if that is done with the original Windows UNZIP function also the unzipped files will be blocked as potential unsafe.
That leads to the problem that amongst others the LogView Studio can not open and load the needed files for the devices. In the Log you may see following information:
Mo 14:54:44.805 : [ 1, Main ] An attempt was made to load an assembly from a network location which would have caused the assembly to be sandboxed in previous versions of the .NET Framework. This release of the .NET Framework does not enable CAS policy by default, so this load may be dangerous. If this load is not intended to sandbox the assembly, please enable the loadFromRemoteSources switch. See http://go.microsoft.com/fwlink/?LinkId=155569 for more information.
Mo 14:54:44.810 : [ 1, Device ] Jeti.dll is not a valid LogView Studio Device.
Solution 1
Don't use the Windows unzipping tool but choose a third-party free ZIP-Tool like 7ZIP or similar. With such program the blocking will not be handed over to the unzipped files.
Solution 2
Open the properties of the ZIP-file and click to the button "allow". This will remove the blocking and the file can be unzipped using any unzipping tool without creating further problems.