Each device which has been added to a project in LogView Studio has at least one Channel. The received data are separated by channels into logical interrelated arrays.
Note
A Channel can neither be moved nor deleted directly as they are a vital part of a device.
The number of available channels is preassigned during the creation / programming of the device file. It can not be changed by the User.
Sample 1
A battery charger which can handle two rechargeable batteries at the same time will have two channels in LogView Studio. The data sent from the charger to LogView Studio will be separated automatically and assigned to the related channel.
Sample 2
A data logger which stores different measured values on a SD-card has normally only one channel in LogView Studio. The data read from the SD-card data file will be assigned to this channel.
Sample Screen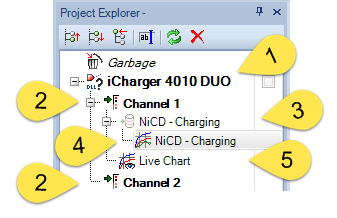 1 Device
2 Channel
3 Dataset
4 Chart View (static)
5 Chart View (live)